Hi my name is Soma Ghosh a careers counsellor and the career happiness mentor.
I was born in North East London to humble beginnings my dad was a barrister and my mum was a chartered accountant. I also had an older sister who would always look out for me and be there for me.
Me and my family growing up
My dad changed his career by becoming a solicitor and going into starting his own practice with a business partner. The changes he made in his career where a result of him wanting a better work life balance and I was lucky to spend time with on his more flexible days, as a young toddler growing up. Unfortunately he became ill due to a brain injury when I was 4 and when I was 6 my childhood was completely changed and my life growing up felt incomplete. My father suddenly passed away from a massive heart attack. At such a young age I had no concept of what was happening and went from being an outgoing child to a shy, reserved often misunderstood one.
It was throughout my childhood I saw how my mum changed her career from an accountant to a teacher. A career she loved and continues to do. It was always inspiring to see how she worked so hard, at work and at home making sure we had cooked meals and all we needed even if it was hard at times.
Me my mum and sister through my teenage years
Throughout my teenage years I was bullied in school for being too mature, different and not wanting to fit in. I always loved writing and helping others through going to girl guides and being part of the local community and church.
When I went to university, I studied Psychology and Criminology I really enjoyed my degree and knew I wanted to be in a profession where I used the values my parents had instilled in me. The values to help others and support them. I would hear stories about my dad clients and my mum's students hearing this would always motivate me to think I want to help others too. I wanted my career to be about making people's lives better.
After my degree I went on to work for organisations like Mind and Barnardo's. This work helped me see how lucky I had been. I was seeing people face mental health issues, money worries and difficult childhood issues. I knew I wanted to contribute and be a light for others. I was still unsure about what I wanted to do.
When I found out about the role of a careers adviser it intrigued me and I applied. I even visited a local careers adviser to ask them further questions and understand if it was something I really wanted to do. I started my Postgraduate diploma or QCG (Qualification in Careers Guidance) in 2007 and completed it in 2008. Whilst training as a careers adviser I worked in various settings including schools, universities and colleges.

Me at my Post Graduation ceremony
I started working in an all-girls schools in 2008 when I was covering for a maternity position and this school really set in motion my working life in careers education. It was an interesting school with a diverse range of students from many cultures and I learnt a lot from my manager and mentor at the time. I will always remember this role fondly but when I wasn't offered a permanent role, I was disheartened by this. Instead of allowing this to stop me I found a permanent position in Central London and worked in another school but also did more community-based work too. I always loved what I did and never doubted I would always remain in a role like this one.
It was a year into this job I faced risk of redundancy. I did lose my job role here. The period when you go through redundancy can cause a lot of mixed emotions and I went through reactive depression and lost faith in my abilities.
Thankfully I was able to be transferred to another role and redeployed somewhere else, but this is where I started to feel differently about my career. This role started out only as a community-based role where I was helping young people find new jobs, get apprenticeships and go to college etc. It was different to the careers advice I had given in school as this was more linked to post 16 options. It was out of my comfort zone and after a few months I was offered a chance to work in two colleges instead. Something I was excited about at the time but when I started this role my enthusiasm was short lived. Many of the students already had access to other careers advisers in the college so when it came down to me, I was seen as a job broker. This wasn't what I trained for and I often felt really frustrated by this situation. As I wanted to give real careers advice to these young people. I was beginning to feel trapped in my role, unhappy and not satisfied with the work I did. The work became more about targets then helping the young people.
After a few months I left this role and I took a year off. It was also at the time my cousin was diagnosed with terminal cancer and this left me questioning my life and career in general as he was only a year older then me and I was 27 at the time. Shortly after a few months I embarked on online freelance work where I was hired by a company to create careers advice documents for them. I also wrote a few careers advice and job-hunting articles for some online platforms like job.mob etc.
After doing freelance work for a year I decided to get back into the real working world and did a few temp roles. Both these roles were non careers advice roles in colleges. One of these roles was as an attendance support adviser where I would check the progress of students who weren't attending an monitor them. The other role was as an academic support adviser where I would go into classrooms and help young people who had SPLD (specific learning difficulty) needs with their work during the class.
I learnt a lot from both roles, but I knew I missed careers advice and counselling. This is where I could see young people go after their true passions and there was a certain element of satisfaction which I was missing in both these roles. We often job hop when we think we should be working because this is what is expected of this. That's exactly what I did yet I still wasn't satisfied or enjoying what I was doing.
After both roles finished in 2013, I was getting married and it was during this year I decided on a dream of mind which was to start my own business. This is a dream I had discussed with my now husband when we met in 2011. So, I created as I like to call it now my practice business called "SGcareers and Job coach". I was working with a life coach at the time who was helping me with this. It was targeted at everyone from young people to young mums. Also, after a year and half of doing this business a few things happened that changed things.
I met my first business mentor Lucy Sheridan in 2014 who made me realise I needed to add some real personality into my brand. My father in law passed away in 2015 which resulted in me going back to work and this paused the business for nearly a whole year. The aim was to have a part-time role so I could work on my business part-time too. This didn't happen and I ended up suffering from burnout as well as going through anxiety and depression. I shared my story around this and, I went through workplace bullying on Happiful you can read about that here
It was only a few months into the job I realised I was being very subtle bullied until it got worse. I would come home still thinking about work. On my days which were meant to be for my business I would still get emails and be working from home on my work laptop. It never seemed to stop and when I was being bullied more. I began to believe the things being said about me. I lost my confidence and self-belief. I still produced good work, but it never seemed to be enough and the need to please my bully was tiring me out too.
When I was unhappy at work and feeling very depressed
After I left my job, I got my first few clients. I did a rebrand and changed my business to "The Career Happiness mentor". I have worked with several amazing business mentors who have helped me phase out my business including Lucy Sheridan who helped me initially create the brand. Kirsty Carden who I did a lot of mindset work and business mentoring with. Nicola Huelin who I learnt a lot about Marketing from. Most recently I have worked the amazing Helen Packham who helps you share your business in a way that truly aligns with you and allows you to be brave.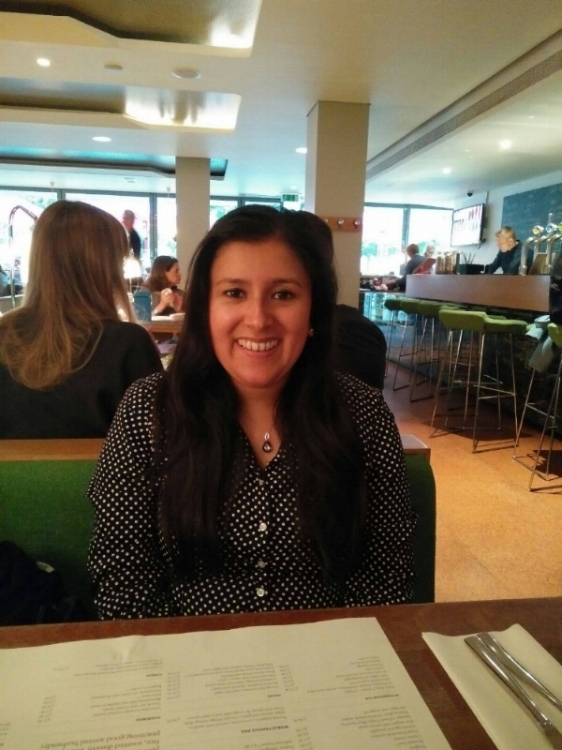 Me celebrating with my husband after having a great session with a client
I now work with women who are unhappy at work, experiencing burnout going through stress and anxiety in the work. Maybe even going through workplace bullying or depression. Women who want to be promoted but don't know how to because their SELF BELIEF is holding them back. I support ladies who want more from their lives and careers. They may have lost their way and need CLARITY about what they really want. Mums who want to regain their CONFIDENCE but don't now to restart their career journey again. I also help women who have had a career break due to redundancy, illness or being a carer. CHANGE is something I know a lot about and my parents showing me how to embrace change has allowed me to embrace it and make it my friend. I want you to have the same feeling whether you are looking for a Career change wanting a new job or thinking about going freelance or starting a business.
If you want to find out more about my story you can also listen to the podcast episode about "My story" here
I have found my version of career happiness with what I do, and I would love to help you find yours
If you want to apply for a 15-minute consultation to see how I can help you find your career happiness please go to link below.
You can also visit the workshops and work me tab too for further information.
Many thanks
Soma x